进口塑料气动隔膜泵(德国进口)品牌
| | |
| --- | --- |
| 外型尺寸 | |
| 品牌 | 德国凯森KAYSEN品牌 |
| 货号 | |
| 用途 | |
| 型号 | KAYSEN |
| 工作压差 | 0 |
| 制造商 | |
| 压力环境 | 常压 |
| 介质温度 | 250℃ |
| 驱动方式 | 气动 |
| 适用介质 | 水 |
| 是否进口 | |
进口塑料气动隔膜泵
Germany imported plastic pneumatic diaphragm pump
KAYSEN泵业中国 :营派阀门(上海)有限公司
Germany Kaysen Pumps China Distributor: Camper Valves (Shanghai) Co., Ltd.
德国KAYSEN塑料气动隔膜泵图片展览
Kaysen Photo Exhibition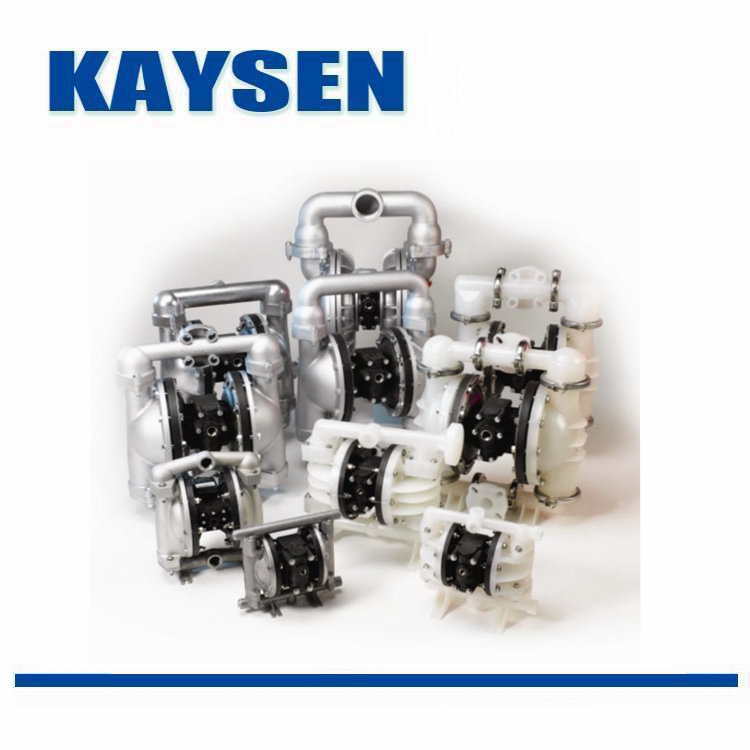 德国KAYSEN凯森塑料气动隔膜泵概述
Kaysen pneumatic diaphragm pump overview
气动隔膜泵是一种新型输送机械,是目前业内比较新颖的一种泵类。采用压缩空气为动力源,对于各种腐蚀性液体,带颗粒的液体,高粘度、易挥发、易燃、剧毒的液体,均能予以抽光吸尽。目前已形成系列化生产,共有八种规格直径:φ10mm(3/8'')、φ15mm(1/2'')、φ25mm(1'')、φ40mm(11/2'')、φ50mm(2'')、φ65mm(21/2'')、φ80mm(3'')、φ100mm(4'')。四种材质:铝合金、铸铁、不锈钢、工程塑料。隔膜泵根据不同液体介质分别采用丁晴橡胶、氯丁橡胶、氟橡胶、聚四氟乙烯隔膜。以满足不同用户的需要。
Pneumatic diaphragm pump is a new type of conveying machinery and it is a kind of novel pump in the industry. Compressed air is used as the power source. For all kinds of corrosive liquids, liquids with particles, liquids with high viscosity, volatile, flammable, and highly toxic can all be pumped out. At present, serialized production has been established. There are eight kinds of specification diameters: φ10mm (3/8′′), φ15mm (1/2′′), φ25mm (1′′), φ40mm (11/2′′), φ50mm (2 ''), φ65mm (21/2''), φ80mm (3''), φ100mm (4''). Four materials: aluminum alloy, cast iron, stainless steel, engineering plastics. Diaphragm pumps use NBR, chloroprene rubber, fluorine rubber, and PTFE membranes according to different liquid media. To meet the needs of different users.

主要特点:
Features
该泵无旋转部件,不会造成环境污染和危害人身安全。
不必用电,在易燃、易爆场所使用安全可靠。
可输送较粘的液体。(粘度在1万厘泊以下)
本泵无须用油润滑,即使空转,对泵也无任何影响,这是该泵一大特点。
气动隔膜泵既能抽送流动的液体,又能输送一些不易流动的介质,具有自吸泵、潜水泵、屏蔽泵、泥浆泵和杂质泵等输送机械的许多优点。
不需要灌引水,吸程高达7m,扬程达50m,出口压力不小于6kgf每平方厘米。
流动宽蔽,通过性能好,允许通过*颗粒。直径达10mm抽送泥浆、杂质时,对泵磨损极小。
扬程、流量可通过气阀开度实现无级调节。(气压调节在2-8kg/平方厘米)
The pump has no rotating parts and will not cause environmental pollution and endanger personal safety.
No need to use electricity, safe and reliable in flammable and explosive places.
Can deliver more viscous liquids. (Viscosity below 10,000 cP)
The pump does not need to be lubricated with oil. Even if it is idle, it will have no effect on the pump. This is a major feature of the pump.
Pneumatic diaphragm pump can not only pump the flowing liquid, but also convey some non-flowable medium. It has many advantages such as self-priming pump, submersible pump, shield pump, mud pump and impurity pump.
There is no need to irrigate the water, the suction process is up to 7m, the lift is up to 50m, and the outlet pressure is not less than 6kgf per square centimeter.
Wide flow coverage, good performance through the allowable passage of the largest particles. When pumping mud and impurities up to 10mm in diameter, the pump wear is minimal.
The head and flow can be adjusted steplessly through the valve opening. (Pressure adjustment at 2-8kg/cm2)

主要优点:
Advantage
噪音底
震动小
使用寿命长
死机
做工精细
Noise floor
Small vibration
long lasting
Never crash
Fine workmanship
KAYSEN产品图
Product Structure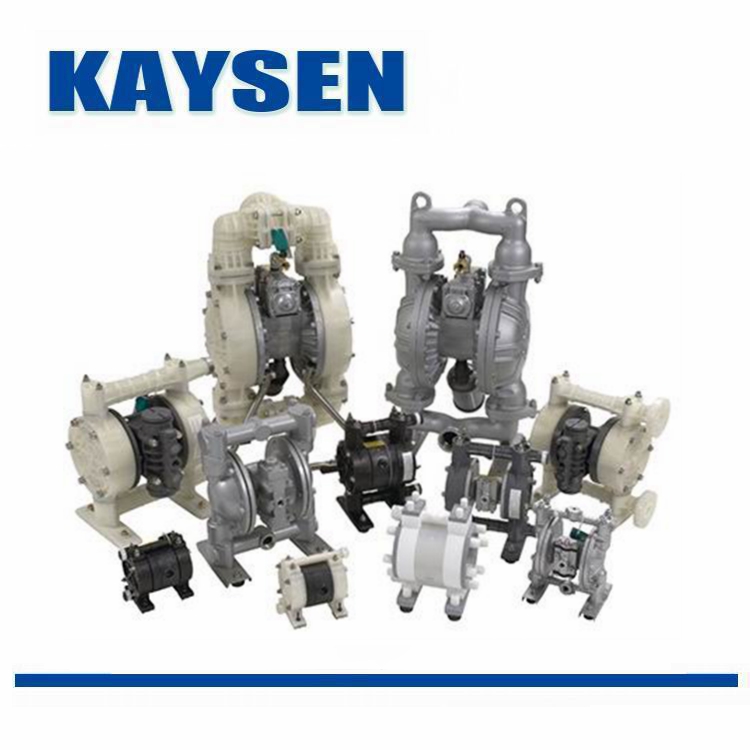 主要应用:
Application
矿井、坑道、隧道、选矿、矿渣中的积水。泵吸水泥灌浆及灰浆。
隔膜泵泵吸各种橡胶浆。
气动隔膜泵作为各种固液体分离设备的前级送压装置。
塑料气动隔膜泵可以吸花生酱、泡菜、土豆泥、小红肠、果酱苹果浆、巧克力等。
塑料气动隔膜泵可以用于吸油漆、树胶、颜料。
吸各种污水。
气动隔膜泵可以用于为油轮,驳船清仓吸取仓内污水。
吸啤酒花及发酵粉稀浆、糖浆、糖密。
粘合剂和胶水、全部种类可用泵吸取。
气动隔膜泵可以吸各种磨料、腐蚀剂、石油及泥浆、清洗油垢及一般容器。
可以吸各种剧毒、易燃、易挥发液体。
各种强酸、强碱、强腐蚀液体。
吸各种高温液体*可耐150度。
各种瓦、瓷、砖器及陶器釉浆。
油井钻好后,用气动隔膜泵吸沉积物及灌浆。
吸各种乳剂和填料。
Water in mines, tunnels, tunnels, beneficiation and slag. Pump cement grouting and mortar.
Diaphragm pumps pump various rubber slurries.
Pneumatic diaphragm pumps are used as front-stage pressure transmitters for various solid-liquid separation equipment.
Plastic pneumatic diaphragm pump can suck peanut butter, pickles, mashed potatoes, small sausages, jam apple pulp, chocolate and so on.
Plastic pneumatic diaphragm pumps can be used to suck paint, gums, and pigments.
A variety of sewage.
Pneumatic diaphragm pumps can be used for tanker and barge clearance to pick up sewage from the tank.
Suction hops and baking powder slurry, syrup, sugar dense.
Adhesives and glues, all types can be pumped.
Pneumatic diaphragm pumps can absorb a variety of abrasives, corrosives, oil and mud, grease cleaning and general containers.
Can absorb all kinds of highly toxic, flammable, volatile liquids.
All kinds of strong acid, strong alkali, strong corrosion liquid.
A variety of high-temperature liquids can absorb up to 150 degrees.
A variety of tile, porcelain, brick and ceramic glaze.
After the oil well is drilled, the sediment and grouting are sucked with a pneumatic diaphragm pump.
Suction various emulsions and fillers.
KAYSEN的技术团队
Kaysen Technology Team

对几乎所有品牌和类型的泵进行快速有效的维护,修理和检修。
泵是您生产过程中不可缺少的元素。故障泵经常会导致生产能力下降甚至生产停机。凯森是几乎所有品牌和类型的泵快速和有效的维修,维修和大修的合作伙伴。多亏了凯森的机器诊断服务,您可以防止由于无法预料的机器停机而造成的生产中断。凯森还提供24小时的紧急泵问题的支持。我们提供量身定制的解决方案以满足您的所有需求。
有效和定期的维护对于泵的*运行至关重要。预防性维护有助于确保您不会面临突发的生产停机和相关费用。我们执行机器诊断服务来 确定您的泵的状况。
Quick and efficient maintenance, repair and overhaul of almost all brands and types of pumps.
Pumps are an indispensable element of your production process. Faulty pumps often result in reduced production capacity or even production downtime. Kason is a fast and efficient maintenance, repair and overhaul partner for almost all brands and types of pumps. Thanks to Kayson's machine diagnostics service, you can prevent production interruptions due to unforeseen machine downtime. Kaysen also provides 24-hour emergency pump support. We provide tailor-made solutions to meet all your needs.
Effective and regular maintenance is critical to the optimal operation of the pump. Preventive maintenance helps to ensure that you do not face sudden production downtime and related expenses. We perform machine diagnostic services to accurately determine the condition of your pump.

位于Schw?bischGmünd的凯森Kaysen泵业有限公司是*的各种流体水泵和隔膜泵制造商之一。60多年来,凯森以"制造"的可靠性和质量达到了*标准。凭借我们全面的产品组合,我们支持 各地的客户成功掌握供水,采矿,工业,化工,造纸,电力,食品,制药,污水和海上行业的苛刻抽水任务。作为上述领域创新技术的*供应商,我们是液体需要安全,高效和经济运输的*合作伙伴。
凯森始终坚持"重质量,讲信誉"为宗旨。产品现 全国各地,并已逐步开发海外市场。公司多次被评为"重合同讲信用"企业,深得用户的信赖和广泛的赞誉。

The Kaysen Pumps GmbH in Schw?bischGmünd, Germany, is one of the world's leading manufacturers of fluid centrifugal pumps and diaphragm pumps. For more than 60 years, Kaisen has achieved the highest standards of reliability and quality of "Made in Germany". With our comprehensive product portfolio, we support customers around the world to successfully grasp the harsh pumping tasks of water supply, mining, industry, chemical, paper, electricity, food, pharmaceutical, sewage and marine industries. As a leading provider of innovative technology in these areas, we are the perfect partner for liquids to be safe, efficient and economical to transport. ,
Germany Kaysen always adhere to the "quality, stresses credibility" for the purpose. Products are selling all over the country, and has gradually developed overseas markets. The company has repeatedly been rated as "the contract with the letter" business, won the trust of users and extensive praise.